Posted 23-01-2013
The 2013 Trans' Champsaurin 42km cross country ski race qualifies for my top ten most difficult physical challenges experienced so far in my 'nearly' 40 years!! I was very proud to have even managed to cross the finish line! Imagine my surprise when I actually won a prize....!!
I started skating, the style of cross country skiing that looks a bit like a duck on skis, only more elegant if you have a good technique, 5 years ago. It's much more technical than it looks and demands a cardio capacity far greater than trail running - my summer sport!!
In the five short seasons I've been practicing it I can say that I am pretty much still on the beginner side of intermediate technique wise but am also totally addicted!!
There is nothing more satisfying than gliding through beautiful alpine scenery on two skinny skis. It's a cardio workout second to none and for those like me who are addicted to endorphins it's perfect. However, for the really good sensations there are certain conditions that need to be right. The snow should be nicely compressed and smooth, ice is dangerous, soft snow or slush is just sheer hard work as the skis don't glide - they just dig in, your skis should be waxed with the right wax for the temperature otherwise they stick to the snow, the sun should be out and there shouldn't be any wind!!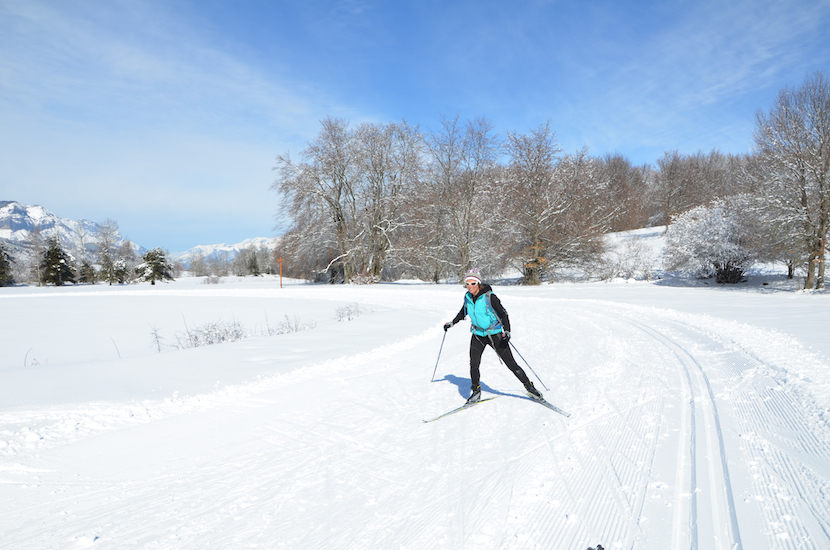 The Trans'Champsaurin 42km cross country ski race traverses my favourite valley of the Alps - the Champsaur valley and was launched three years ago. It's a national race and attracts club skiers from all over France but is also open to the general public.
This year the snow started early so I had had plenty of opportunities to get out and the conditions were looking good so I entered!!
5 days before the race, the forecast changed and it announced fresh snow for the whole weekend. 'Oh no' , I thought, 'soft, sinking in snow... 42km will feel like 84'! Saturday arrived and the announced snow fell as rain - quelle catastrophe! Not just a little sprinkling of rain - buckets of it washing away a good layer of snow and making the bottom layers nice and slushy.... the rain eventually turned back to snow again but the damage had been done. We were going to be skiing in puddles!
Sunday morning, I set off with Donald from la Combe Fleurie and a group of guys from Marseille. First dilemma - what to wear - should I put on my goretex shell for if it rains or snows or would it get too sweaty? Naturally nesh, I decided for the jacket! Standing in the starting block I looked around at my competitors. I didn't see many other women or many people wearing jackets. In fact everyone looked decidedly male and professional in their lycra body suits! Intimidated...? Just a little!! I positioned myself at the back on the last line!!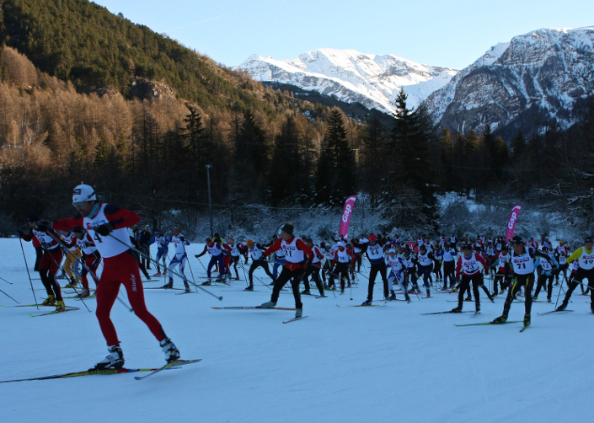 The whistle blew and off we went. Very quickly the mass thinned out and I positioned myself near the end of the long trail of skiers!! The first few km were on the plateau of Ancelle, wet, slushy snow with big puddles. It was horrible to ski in. I went through one puddle up to my calves and felt water enter my boots! Bearing in mind these aren't like walking boots - once the water gets in, it stays in!! Skiing with my feet stuck in a freezing swimming pool! I was pretty much decided at that point that I would take the first possible exit out of the race. Then, when I fell into a puddle and wet one whole side of my body (luckily no-one saw this very embarrassing fall!!) I was certain of my decision. Apparently there was a possibility to cut off and take the 20km race route further up and shave off 15km. I would do that and disqualify myself.
Happy now that I was just skiing to the exit point and now wanting to warm up to make the wet bearable, I welcomed the climb out of the plateau. However, the climb continued and continued and continued. I got hotter and hotter and hotter. It was going to be too much hassle to take my race bib off and then my coat off and tie it round my waist and tie the bib back on so I suffered thinking the climb would soon finish. But it didn't. Eventually I gave in and took off my jacket but it was too late - by that time my thermals were sodden - a mixture of sweat and puddle!! Ahhhhh at last a refreshment stop. I told my jacket dilemma to the very kind person who served me a nice sweet drink and she warned me to make sure I put it back on for the descent as it was a long descent and would be cold.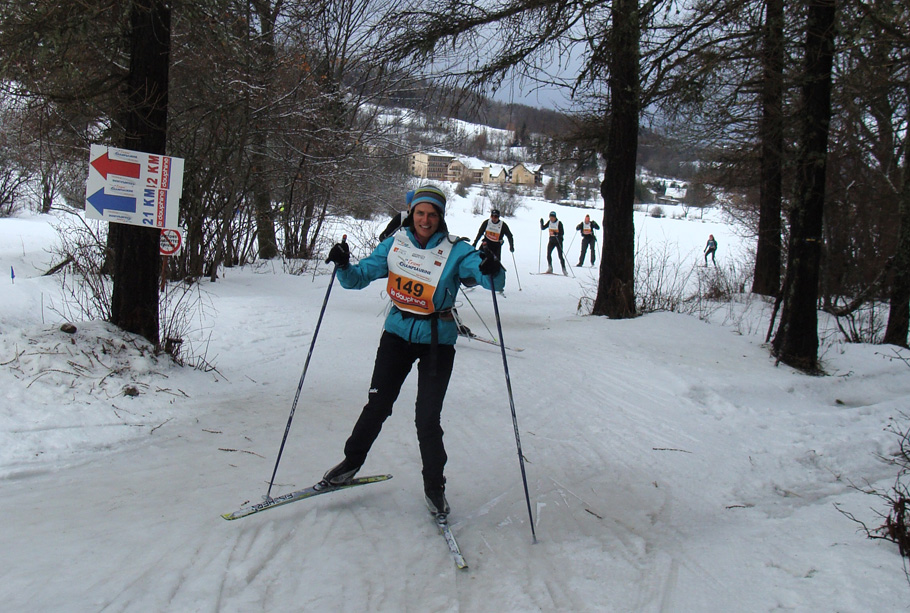 The big descent was after a short traverse of the pistes of St Leger - shared momentarily with downhill skiers (which was rather interesting!!) and a 1.5km climb. At the bottom of the big descent was my exit point - woo hoo - the pain was nearly over... so I thought!
The descent is usually where one gets to recover a bit ... but not today! Being near the back meant that a few hundred skiers had already passed before me so the nice even damned piste was no more. It was moguls. Moguls of soft heavy snow. Great fun if you are wearing downhill skis but on skinny skating skis, it's much less fun!! I could see the thin line of snow plough tracks of skiers before me and tried to follow them. My thighs barely holding my skis in position, concentration at it's highest I started the down, crisping at every hairpin as the tracks disappeared into a lumpy mogul mess! Luckily I was on my own with no-one close behind to see my terrible technique!! And then to my horror, a loud 'whooooa!!' hollered down the mountain. The first skiers of the 20km race were coming through and overtaking me at 100km per hour. As well as trying to negotiate the route down I now had to also move out of the way every 5 minutes to prevent myself from being run over - quelle horreur!! At least some of them fell over too. It was nice to know the conditions were challenging the experts too!!!
The steepness gradually evened out and there was a rather nice traverse through the woods. Soon I would arrive at my exit point. As I approached I was greeted with big cheers of encouragement. Fred, who taught me to ski was directing the skiers in the direction of their race (to prevent 42km people taking the 20km route!!). How could I opt out now - that would just be far too embarrassing? Instead I asked cheerily, 'how many km left?' 15 km was the answer. 'Oh that's all right then', I said, whilst thinking totally the opposite.
I re-fuelled at the next refreshment stop and gritted my teeth for the last stretch. It was head down and go. More familiar faces appeared en route noting down our numbers - thank you to them for the morale boost. It was now just sheer hard work. I could feel every fibre in my leg muscles and I knew the last 5km were uphill. I don't think I need to describe what I went through during those last km, it is enough to say that I used every last ounce of energy and pushed myself harder than I have for a very long time!! I think only giving birth tops it!!
I crossed the finish line exhausted but proud to have finished!
As usual I was under time constraints to get back so didn't hang around. Half an hour later as I was standing in the shower, my phone rang and a friend told me that I had won a prize for being the first in my category! As it turns out I was the only one in my category but who cares. The trophy is proudly placed on my shelf and every time I wear my new top of the range drink belt holder it will be with fond memories!!
Blog Categories
Recent Posts