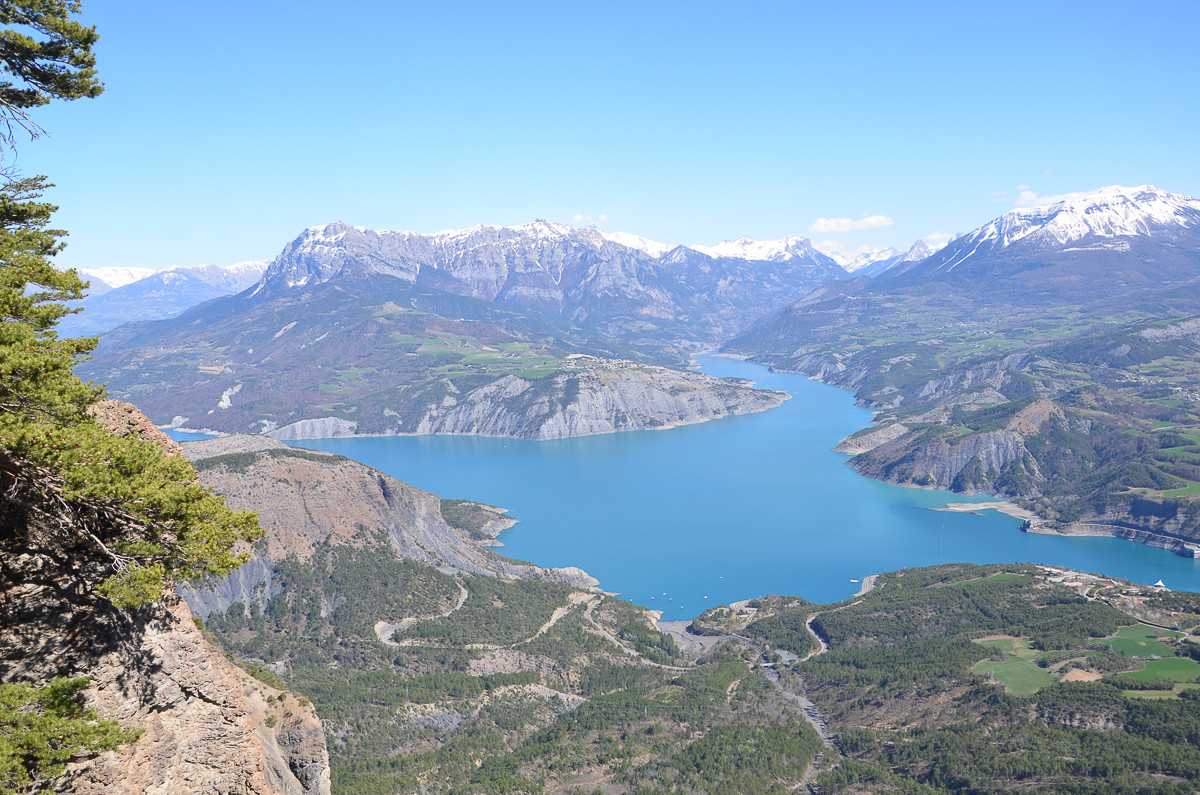 The Southern French Alps is a large department with a huge variety of landscapes, from high mountain glaciers in the Ecrins National Park to beautiful turquoise blue lakes like the Serre-Ponçon Lake with its many beaches and breath taking sceneries.

The area is steeped in history, with many sites to visit including the citadel in Sisteron and the Vauban fortification in Mont Dauphin The famous Route Napoléon also runs right through the heart of the department.
Geologists will have a field day in the Hautes-Alpes with the Demoiselles Coiffées and the "Petrified Fountain" amongst other more standard geological features like obvious strata formations and U shaped glacial valleys.
The Durance valley is the fruit basket of France with orchards of apples, pears, apricots and peaches stretching for miles. A kayak down the river is a great way to take in the features of this wonderfully fertile valley with its mountain backdrop.
There is the Champsaur valley with its famous bocage and the adjacent and very contrasting Valgaudemar valley, known locally as the Little Himalayas (pictured above).

For outdoor lovers looking for a summer adventure the area is famous for: road cycling with many of the famous Tour de France cols in the department, it's white water rivers which are undoubtedly the best in France and probably Europe, rock climbing with the world famous Céüze cliff face, mountaineering in the Ecrins National Park, some of the best paragliding hotspots in France, walking, mountain biking and many other sports. The village of Tallard is home to one of the best aerodromes in the world for air sports like parachuting and light aircraft.
In winter there are many ski resorts including well known ones like Serre-Chevalier and Vars as well as lesser known ski villages and resorts such as Ancelle and Orcières so there is something for everyone! It is also very good for multi winter sports with some of the best ice climbing in the world in Freissinieres, husky sledding, snowshoeing, ski touring and some excellent cross country skiing.
The capital of the Hautes-Alpes is the city of Gap, which has earned the title of sportiest town of France thanks to its many sporting clubs and associations. It's not really surprising given it's position! It has hosted the Tour de France numerous times as well as other world famous sporting events like the Monte Carlo Rally. As a town, it looks very Provencal with tall coloured buildings decorated with a variety of shutters, large pedestrianised squares set out with tables and chairs around the fountain for a relaxed coffee and people watch. It also has a great market on Saturdays!
You can navigate to read more about individual locations form the top menu. Enjoy!