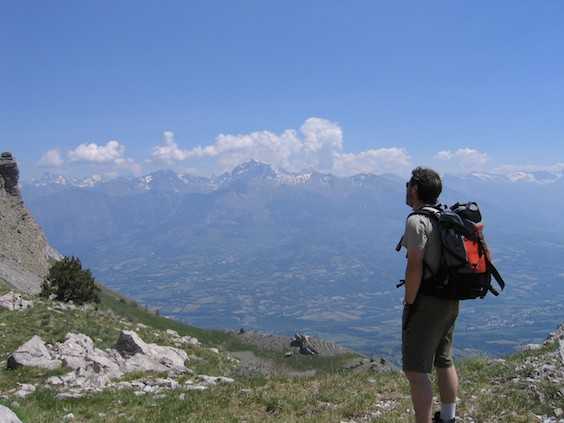 "Travel back in time to the authentic French Alps."
Perhaps the greatest charm of this corner of the Alps is the fact that it has largely escaped the mass over-development suffered by other alpine valleys. The Champsaur is characterised by a sparse, traditional, rural population, who continue to make their living by producing delicious cheese, meat and delicacies as they did centuries ago.
The Champsaur is famous for it's 'bocage', the criss crossing tapestry of hedgerows marking field boundaries. It is one of the few remaining examples of this rural alpine tradition in the Alps – a testimony to the importance of farming in the valley. Tourism also plays an important role in the community, but it has not spiralled out of control, thanks to the protection of the surrounding Ecrins National Park and a limited infrastructure. This means visitors experience the stunning wilderness and unspoilt scenery without having to move from their accommodation. You are surrounded by untouched beauty and diverse wildlife with every step on the trail.
The mountains, rivers and forests are pristine playgrounds for outdoor enthusiasts willing to get away from the crowds. You are unlikely to battle for space while kayaking or bump into many other hikers and mountain bikers on the trails. You are guaranteed an unforgettable adventure with so many exciting activities and stunning locations. Tiny traditional villages such as Prapic and Champoleon are hidden away in the deep Alps, lost in a time warp of simple rural life.
The accommodation options are generally traditional alpine chalets and hotels, serving healthy local produce and good hearty Alpine dishes. Warm hospitality and down-to-earth locals are the Champsaur trademarks.
In the winter there is a great diversity of activities including husky sledding, ice climbing snowshoeing and cross country skiing. For downhill skiers there are ski resorts to cater for all levels, whether you are seeking small, friendly family ski villages or high altitude backcountry powder runs. Ski touring and ski mountaineering are also popular in the Champsaur with a wide choice of routes.
The weather between May and September is blissful. Like the rest of the Hautes-Alpes, your chances of clear azure skies and long hours of sunshine are high, with over 300 days of sunshine on average per year. Perfect conditions to make the most of the wide range of activities to choose from: paragliding, canyoning, via ferrata, white water rafting, mountain biking, high ropes, tree climbing, walking… to name just a few. This means outdoor living to the max. Wonderfully warm evening BBQs followed by star gazing make the perfect end to your busy active day in the mountains.