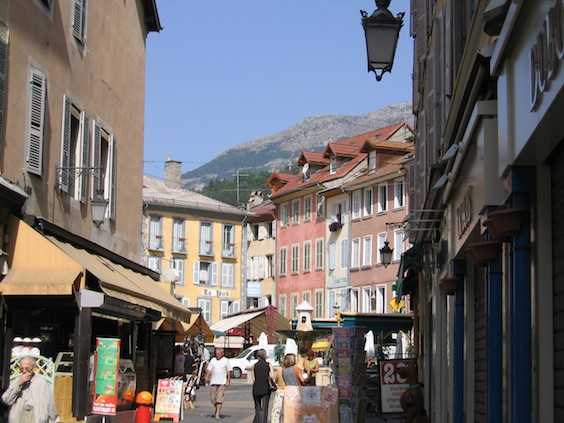 The aptly named Gap may surprise those who have never heard of it. With about 45,000 inhabitants, the largest urban area in the Hautes-Alpes department has a few surprises up its sleeve. Whilst it is mainly the administrative capital for the department, it does offer visitors some decent urban entertainment options.
For those of you thirsting for nightlife and the bright lights, Gap can be a fun night out if you know where to go. You are more likely to share the bars and music venues with locals, rather than other tourists, making an authentic Gapençaise experience.
The sportiest town in France.
In 2013, Gap was voted the sportiest city in France, according to a survey by L'Equipe magazine. Roughly 50 % of the town's population are enlisted in sports teams, clubs and associations. Plus, the town is host to major sporting events each year, such as the Monte Carlo Rally and the Tour de France.
The public sporting facilities are great for visitors too, with a brand new ice rink (the local "Rapaces" team are currently the best team in France!), a modern indoor and outdoor swimming pool, indoor climbing walls and several new fitness centres.
Memories of Provence
The town centre is made up largely of pedestrian streets and winding alleyways. It has several large attractive squares, ideal for eating out al fresco and soaking up the summer time buzz. The pastel coloured houses and historic stone buildings are reminiscent of the famous postcard towns of Provence. If you happen to be in Gap for the busy Saturday morning market, you'll be able to sample all the greatest products from nearby Provence as well as the local farms.
Nightlife and eating out.
There are a large selection of very nice restaurants, take-aways, pizza trucks, cafés and bars dotted around town. Live music and cabaret in cosy venues are popular on the weekends, keeping the local crowds entertained. There is a theatre and concert centre offering mainly French spectacles, plus the brand new Ice Hockey stadium with major league games held in the Autumn/Winter/Spring season. The latest film releases shown in English are limited to Tuesday nights at the main cinema, otherwise they'll be dubbed in French.
Shopping
Gap is the hub of retailing for the Hautes-Alpes. All the main clothing stores, sports shops, electrical goods and supermarkets can be found on the outskirts of the city centre in the Tokoro district. Free city buses are available, but driving is usually the easiest option. The town centre has many unique clothing boutiques and gift shops where you can buy local souvenirs. All these shops stay open late every Tuesday during the summer and the "Nocturnes de Gap" are one of the best times to be in the city!