Posted 10-01-2020
The cycling season in the Alps runs from May to November, with some of the higher altitude areas closing in September. While the winter months are too cold to make riding enjoyable, summer offers endless tracks for the avid mountain biker.

France in particular has gained a reputation as a top destination for mountain biking in Europe. Whether it's the nation's thirst for adventure, their laissez-faire attitude to life or the sheer variety of terrain to explore, riders return here time and time again for their two-wheeled thrills.
Many have heard of the legendary singletrack rides of Portes du Soleil and its network of resorts. Beyond that, you'll also find miles and miles of waymarked trails and mountain towns for every style of riding.
Whether you want cross-country biking suitable for the family, epic downhill or technical climbs, the French Alps has it all. From the spellbinding valleys next to Ecrins National Park to the fast, flowy descents of Chamonix, there's an unbeatable choice of destinations. If you don't know where to start, here are some of the best places to try for your next mountain biking adventure.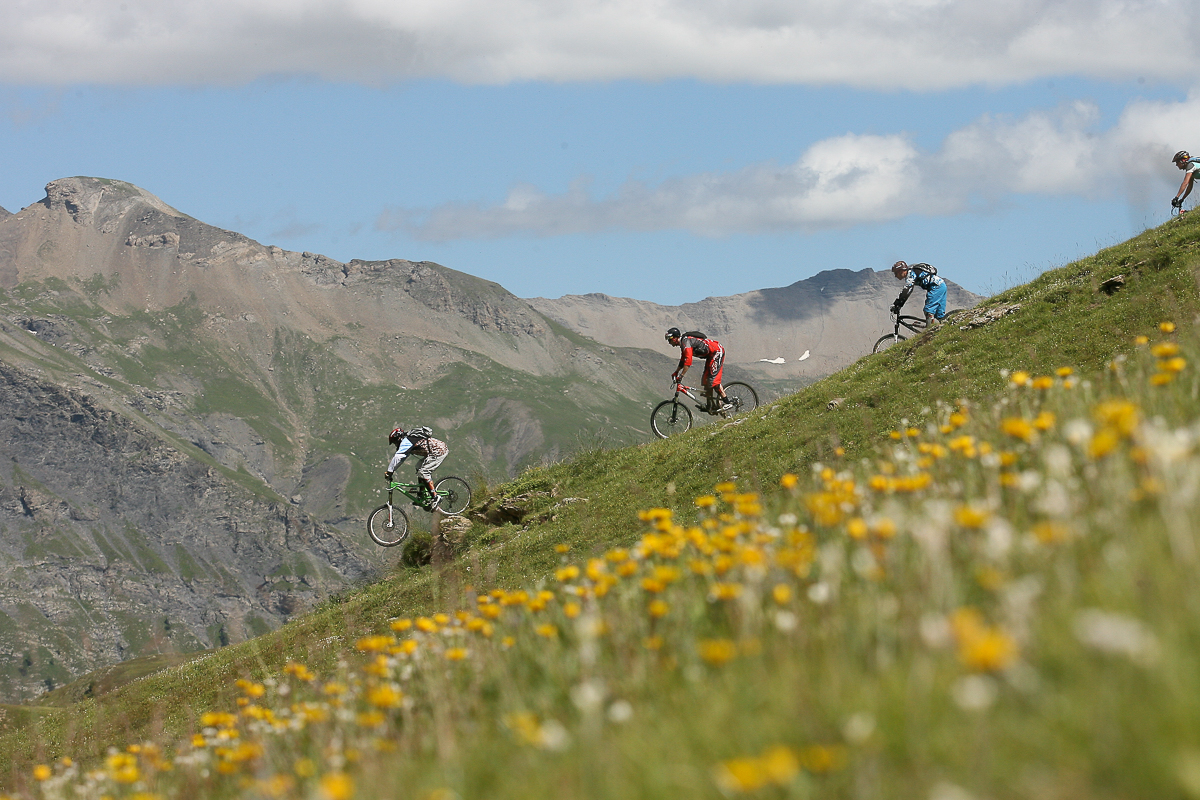 Champsaur Valley
This spectacular valley in the Ecrins National Park area is one of the best places to go mountain biking in the French Alps. Characterised by its sparse, rural population and old alpine traditions, a journey here will feel like you're travelling back in time. Free from tourist crowds, you'll be met with unobstructed views during your ride, and you may even be able to spot wildlife such as marmots, chamois and ibex.
The routes are varied, with technical singletrack through wild forest, trails on magnificent mountain ridges and gentle lakeside tracks or canal paths. Experienced bikers will be in their element with our 7-night Champsaur and Valgaudemar Mountain Bike Tour which takes you across two very contrasting landscapes. The tour is available from May to October, and includes a tree planted on your behalf to reduce your travel footprint.
Why go?
The Champsaur Valley is a divine corner of the Alps that has managed to escape the modern development seen in many resorts. While tourism plays an important role in the local communities, the area has been largely protected as part of Ecrins National Park. The mountains, rivers and valleys are pristine, giving anyone who comes here a real sense of being off the beaten path.
Other activities:
In the summer, Champsaur Valley is a natural playground for those who love to be outdoors. As well as being a top destination for mountain biking, you can also go canoeing, rafting, mountain fishing, swimming, golfing, hiking or horse riding. You can create your own tailor made multi activity holiday in this region with our customisable summer multi activity holiday.
Where to stay:
You'll find plenty of traditional alpine chalets and hotels, many of which are family run and are passionate about serving local and seasonal produce as a part of the slow food movement. Champsaur Valley's medieval capital, Saint-Bonnet-en-Champsaur, is a fantastic place to stay and has a charming square and covered market.
Valgaudemar Valley
Valgaudemar is one of the wildest valleys in the massif of Ecrins. Our week-long mountain biking tour in the Alps takes you across both the Champsaur and Valgaudemar valleys, and by the time you reach the latter you'll be traversing steep and dramatic mountains. Biking inside Ecrins National Park is not permitted as the area is protected and has a strict code of practice for visitors, but this is as close as you can get to paradise.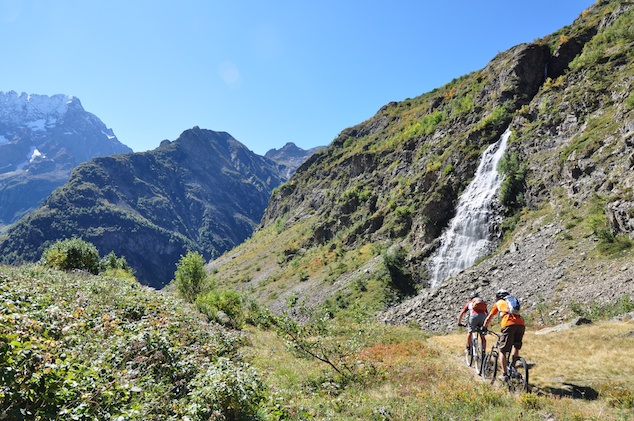 At the bottom of this valley, you'll be met with pleasant woods running along the Séveraisse River and some incredible waterfalls. These are some of the stunning areas you can explore on foot if you have time.
Why go?
Across the Valgaudemar Valley (and also Champsaur), everyone can find a route to suit their level and ability. This remarkable region is where sporting legends have ridden and the Tour de France has left its mark in history.
Other activities:
One of the best things to do in the Valgaudemar Valley other than riding is to go hiking. If you enter in from St-Firmin, you will pass the quaint and charming villages of Le Sechier, Lachaup and l'Ubac with their traditional stone houses that have been unchanged for years.
Where to stay:
Stay in a traditional chalet in La Chapelle en Valgaudemar or find a stylish château-style hotel in the largest commune of Saint-Firmin.
Vallouise Valley
The Vallouise Valley has long been a solid favourite with Ecrins Massif riders, and it's the place to go if you're looking for variety. With easy family routes that are as short as 45 minutes, there really is something for everyone. It doesn't matter what level you're at, riding here is inclusive of all ages and abilities. The choice of terrain is also impressive, so you could be exploring the many high altitude trails, riding along beautiful forest roads, or taking on some daring descents.
There are 58 marked circuits, ranging from the short and sweet to ones fit for 2-day riding itineraries. And with most of these on your doorstep, the Vallouise Valley is truly accessible while being worlds away from the main tourist track.
Why go?
This area is nice and quiet, and there's a good chance you won't see a soul as you ride. This is a vast open space with thousands of kilometres of bike trails, specialist lift-assisted downhill courses and XC areas that are gentle enough for beginners.
Other activities:
There are so many things you can do here other than cycling. You'll find horse riding tours, endless hiking trails, river rafting, kayaking, canoeing and parasailing.
Where to stay:
You'll find chalets and apartments in Vallouise, Puy Saint Vincent, Aile Froide and Pré de madame Carle.
Alpe d'Huez
Made famous by The Megavalanche, Alpe d'Huez is a bit of a star among the mountain biking areas of the Alps. It's well known in the biking community for its huge descents over glaciers and its dramatic singletrack and forest trails. With a huge variety of terrain, Alpe d'Huez will appeal to a lot of experienced riders in search of a challenge – and it's often said to be the "home of modern enduro riding".
The season here is short though. It's weather dependent but lift season is usually from the first weekend in July to the last weekend in August.
Why go?
The Mega is what many enthusiasts come here for, and this descent drops from the Pic Blanc (the highest lift on the hill) and leads down to Allemont in the Bourg Valley. It covers everything from snow and rock to sand and forest, and there'll be a few challenging climbs at the end.
Other activities:
In the winter, come to the resort for skiing and snowboarding. In the summer, come here for watersports at the centre between Venosc and St Christophe as well as paragliding. The Alpe d'Huez golf course is also open throughout the summer months.
Where to stay:
This is a busy tourist area with plenty of hotels, chalets and holiday apartments to choose from.
Orcières Bike Park
In the heart of the Southern French Alps and very close to the Valgaudemar Valley is Orcières, a bike park with stunning views that overlook the area of Champsaur. Three lifts are open to mountain bikers, with the Télémix Drouvet lift topping 8,694ft (2650m). The resort base elevation is at 4,429ft (1350m), giving riders an excellent vertical descent.
Orcières is also host to the MTB Games and other competitions, making it a leader in France for youth mountain biking. If you're travelling with teenagers and want to incorporate mountain biking then our downhill mountain biking trip could be a great fit.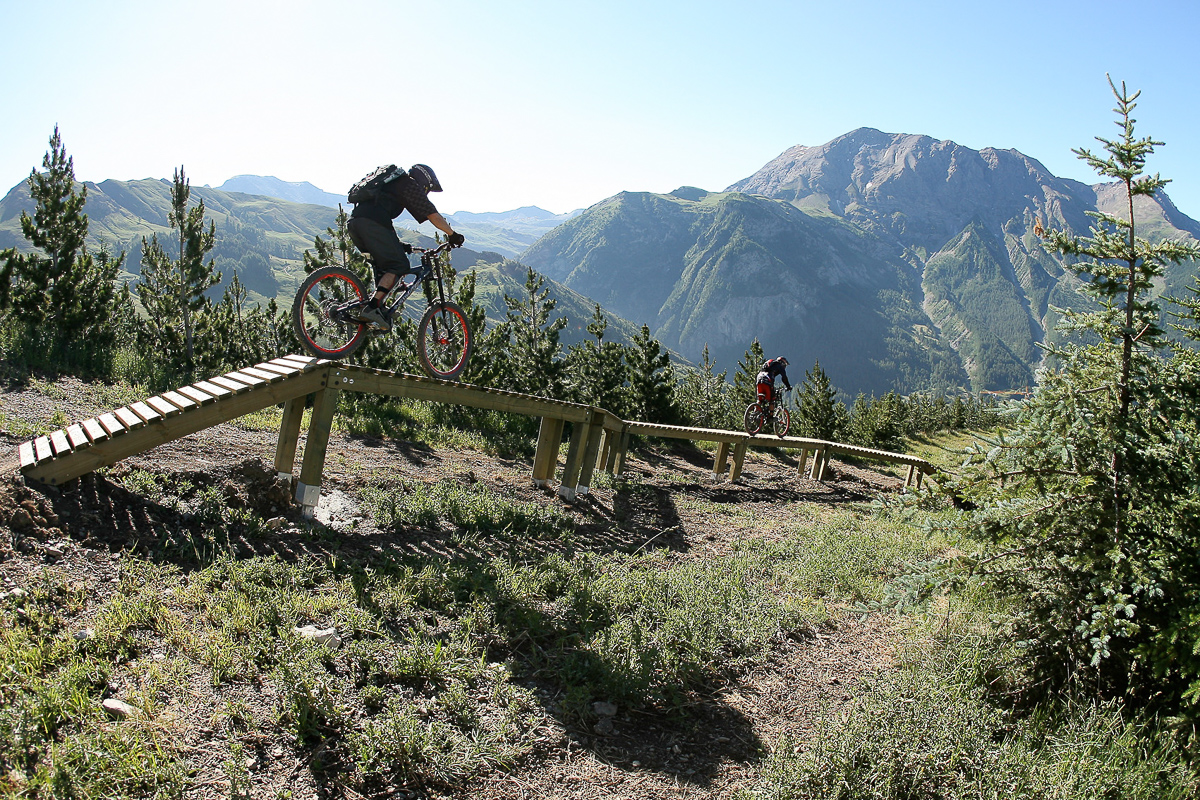 Why go?
Orcières Bike Park is a full service resort that makes your mountain biking adventure easy and accessible. There are trails that cover beginner to advanced, including exciting downhill trails. Ultimately, there are tracks to suit everyone, no matter what level you're at. You can also get coaching from expert instructors, making this an ideal biking destination for newbies or those who are rusty behind the handlebars.
There are great views overlooking the Champsaur Valley, but if you'd rather get out there in the wild, take a look at our 7-night Alps to Provence mountain biking tour which covers the Champoléon Valley, the Champsaur and Gapençais valleys, Buëch, and the famous Gorges de la Méouge in the heart of Provence.
Other activities:
In the commune of Orcières and around the ski resort, visitors can go hiking, paragliding or enjoy a spa day.
Where to stay:
The resort offers a charming selection of accommodation, and warm hospitality from the friendly locals is guaranteed.
Les Gets
The most well-known area for mountain biking the Alps is Portes du Soleil, a network of resorts including Les Gets. Within this network, you can get to Morzine, Avoriaz, Chatel, Morgins and Champery – and combining all of these locations with a single lift pass makes for a great riding holiday. You'll be spoilt for choice for singletrack descents and epic XC – you really won't find this much variety anywhere else in the world.
Why go?
Let Gets is the perfect base for anyone hoping to ride the trails in the vast Portes du Soleil. For downhill adrenaline chasers, there are 12 runs on offer on the resort alone, and they all vary in difficulty. It's also home to three jump parks, two north shore trails and countless technical zones for the more advanced.
Other activities:
The village is lively during the summer months, with golfing, hiking and trail running being popular activities. For children, there's a waterpark, a swimming lake and a bowling alley.
Where to stay:
You'll find excellent accommodation in Les Gets, as well as Morzine which is right next door. You can get the Les Gets-Morzine lift pass so you can access both areas.
Chemins du Soleil
The Chemins du Soleil is a vast route over 1000km from the Alps the Mediterranean. It is an exceptional challenge for both man and bike, usually lasting between 5 and 7 days. The trails are well marked and incorporate the natural and cultural attractions of the region.
Why go?
Mountain bikers who like a challenge will love this, with the chance to soak up incredible scenery alongside the demanding route. It can be done at an easier though with lots of nice accommodation options along the way for those that like a steadier pace.
Other activities:
Our Alps to Provence trip incorporates the best of this route, so if you fancy a taste of it alongside other activities then you can incorporate a whole host of other activities along the way.
Where to stay:
There is plenty of good accommodation along the route, so if you wish to take a slower pace then you can have some longer stops in the destinations along the way.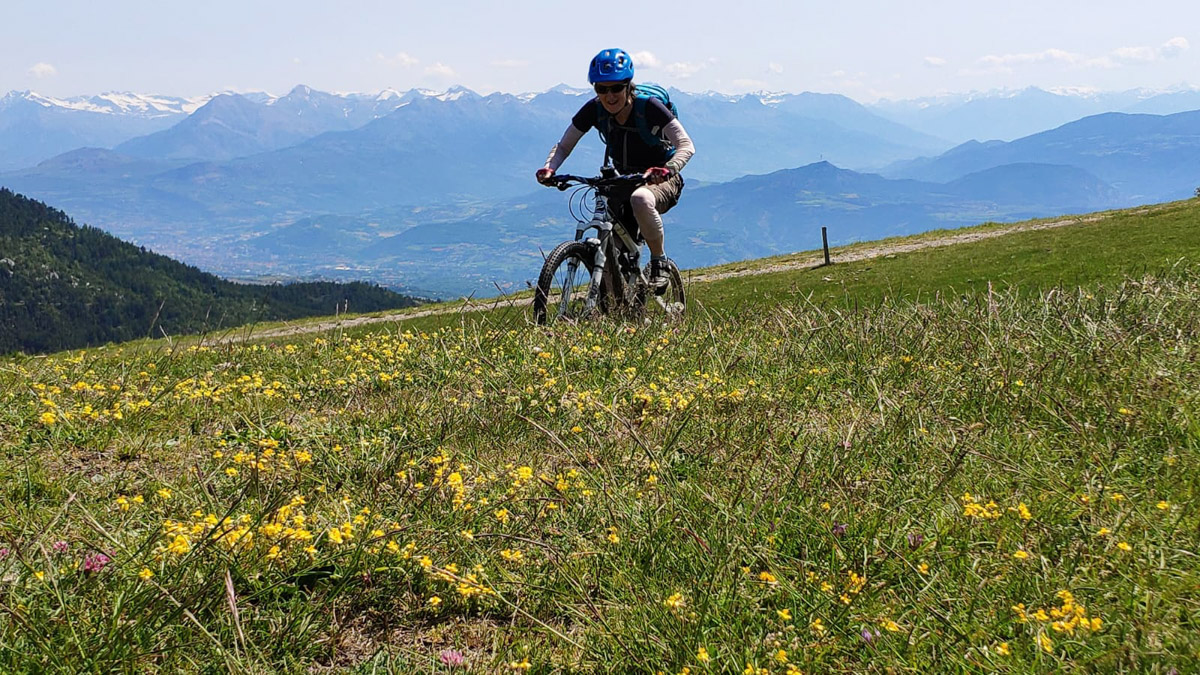 La Grande Traversée des Hautes-Alpes
La Grande Traversée des Hautes-Alpes stretches from La Grave-Villar d'Arène to Laragne-Montéglin and brings together a fantastic array of beautiful landscapes and thrilling biking experiences. It takes you from glaciers to lavender fields and has great accommodation along the way.
Why go?
An iconic route with such a range of landscapes en route makes for an unforgettable trip. You get to experience real altitude mountain biking and pass through the beautiful lake Serre-Ponçon area in between your glacial start and Provençal finish.
Other activities:
Given the amount of places you cover on the route there is scope for lots of other activities along the way which we can help with as part of our multi activity holidays.
Where to stay:
As with the Chemins du Soleil route, there are lots of accommodation options en route so you can choose how quickly you wish to travel and what level of accommodation you want to stay in.
Chamonix Valley
Known for their legendary trails, the connecting areas of Le Tour and the adjoining Vallorcine Valley are loved by advanced bikers across the world. Combined with the stunning scenery, this is a backcountry destination that every rider should add to their bucket list. The famously steep terrain is a challenge, even for some of the most experienced riders. Lift dates run from June to the end of September.
Why go?
The trails are close to perfect, with pristine nature and gorse-lined singletrack around incredible blue glaciers and towering peaks.
Other activities:
There's so much to do here for the whole family. Visit the Glacier des Bossons for a chance to go inside a glacier, ride the Chamonix Luge Alpine Coaster with views of the mountains, walk around the picturesque village of Argentiere, or spend the day at Merlet Animal Park.
Where to stay:
In this popular tourist area, you won't struggle to find accommodation. There are large hotels, chalets and apartments available across a number of locations.
Have You Tried E-biking in the Alps?
The French Alps is one of the most popular mountain biking destinations in the world. Its steep climbs and challenging trails are what's attracted so many riders to come here over the years. But this tricky landscape has also created barrier for the less advanced. Intermediate riders can be easily intimidated by the strenuous routes, which is why the new wave of electric bikes is doing so well in the Alps.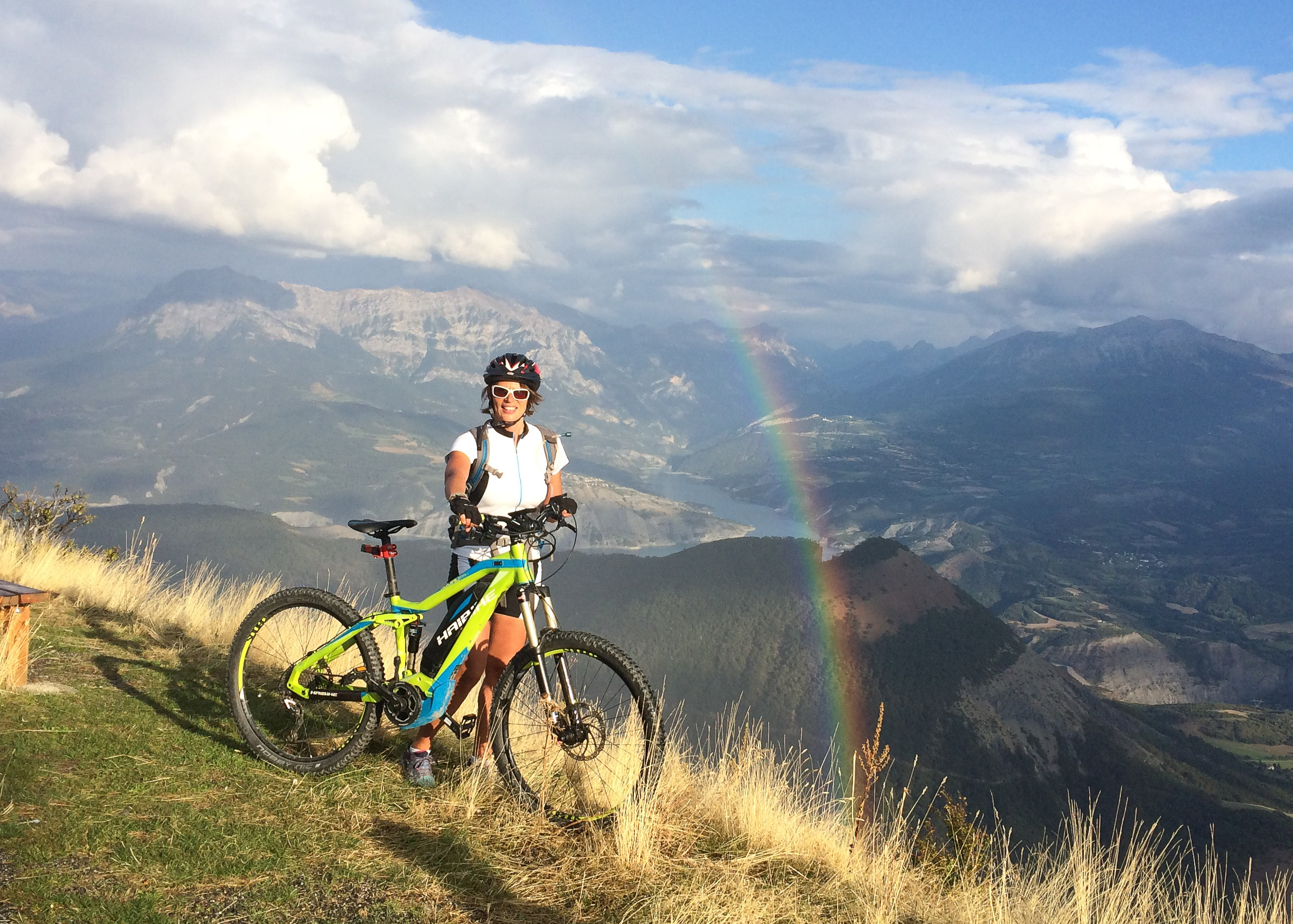 E-bikes look just like regular bikes, but they come fitted with a small motor in the driving mechanism. Controlled from the handlebars on a small computer, you can get extra assistance up to a max speed of 25km per hour. So those tough uphill stretches will be much easier with an e-bike. You'll be able to increase or decrease the amount of extra assistance you require, giving you complete control of how much work you want to put in.
This is an excellent alternative to regular mountain bikes for those who worry about keeping up. No longer is biking in the Alps reserved for the super-fit endurance junkies. Now everyone can enjoy the same trails and take in the same views with a slightly easier ride. E-biking opens the door to a whole new world of mountain exploration, and it's perfect for anyone looking to cycle in the Alps for the first time.
Find out more about our e-biking holidaysor our downhill biking holidays in the Alps online.
Blog Categories
Recent Posts