Posted 11-10-2019
This great winter exercise makes the perfect alternative to skiing or snowboarding. It's a fantastic way to stay active, is much faster to learn, and is also more affordable as a sport. With many high altitude hiking trails doubling up as a snowshoe track, the world is your oyster. It is also said to burn more calories than walking, running or cross country skiing at the same pace – so it's ideal for keeping trim in wintertime.
What started many years ago as a mode of transport in extreme conditions, has now evolved into a fun recreational activity for the adventurous. Not sure if snowshoeing is right for you? Here we explain everything you need to know about it.
Snowshoeing Explained
Think of snowshoeing as an extension to hiking. In simple terms, it involves walking over snow with the assistance of snowshoes, a type of outer footwear that features a wide frame to distribute the weight of the person over a larger area. The reason for this design is to achieve something called "floatation", a quality that prevents the foot from sinking into the snow.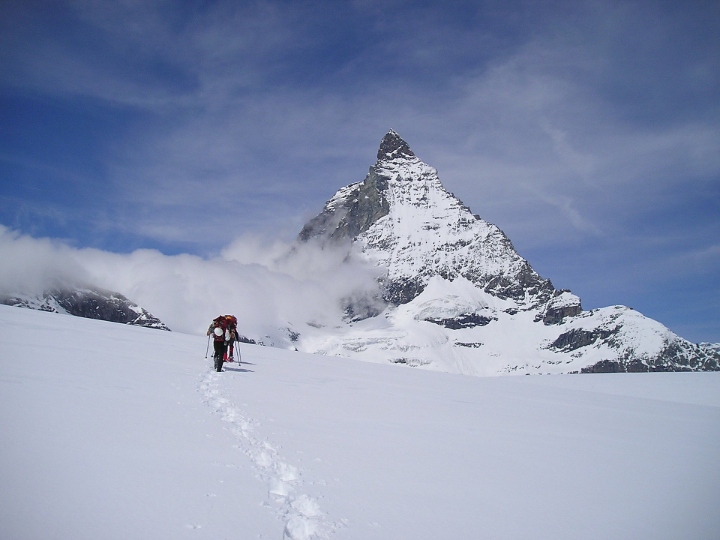 Snowshoes are made with a frame and connecting fabric straps or lacing to allow for better manoeuvrability. Designed to fit over your shoes or boots, they are an easy add-on for anyone who already enjoys hiking. The frame at the bottom, often made of lightweight plastic or metal, is what deters snow accumulation and displaces weight across the snow.
There are different sizes available for different types of snow. For instance, a smaller surface area will be fine for hard or groomed snow, while a larger frame will be needed for walking on soft powdered snow.
This is one of the fastest-growing hobbies of today, with people of all ages and physical abilities being able to take part. And although there is snow safety to take into consideration snowshoeing requires less technical skill or experience than sports such as skiing or snowboarding.
The History of Snowshoeing
This technique of walking in the snow dates back around 6,000 years ago. Snowshoes were first developed in Central Asia, and the very first designs were modelled on the tracks of animals (such as the 'snowshoe hare') which were adept in moving around in the snow. Over the centuries, they have played a vital role in survival in the remote mountains for trappers and traders traversing the wilderness.
The traditional shoe form was first crafted from hardwood and latticed rawhide. Today, the shoe design has modernised. The frames are now made of plastics or lightweight metals, and they are connected together with synthetic fabric straps or Velcro bindings. The toes of the modern day snowshoe are also raised for better mobility and athletic appeal.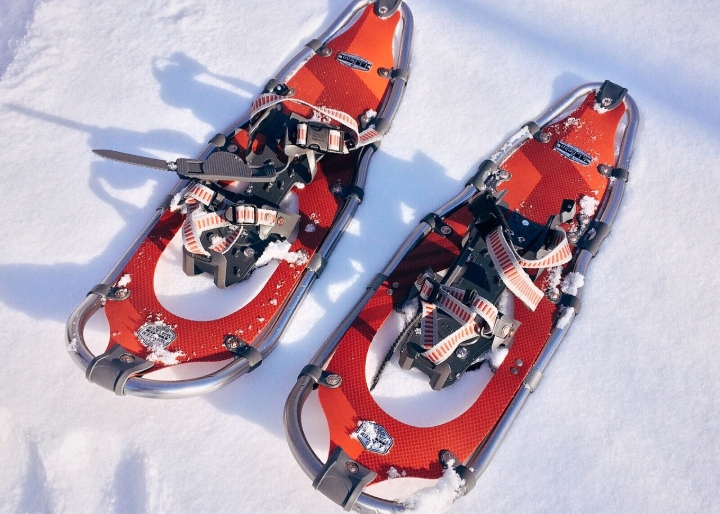 Why Give Snowshoeing a Go?
Other than being lots of fun, here are some of the reasons to try it out:
Burn calories– snowshoers burn anywhere between 420 and 1000 calories per hour (according to a study by the University of Vermont). That's almost twice as much calories burnt if you were walking at the same speed.
Full body workout– not only will you burn calories, but snowshoe exercise puts your entire body to work, including those micro muscles. And because your body will be relying on proprioception whilst you're out in the snow, you can improve balance and condition muscles to work even harder.
It's free– unlike other winters sports like skiing, you don't need a huge bank balance to fund your hobby. Most hiking trails can be a snowshoe trail in winter, and once you've bought all your initial gear you won't need to splurge on anything else.
You can do it anywhere – take your pick of the lands when it comes to stretching your legs in the snowy landscape. Simply pack your snowshoes in the car and find somewhere local, or you can embark on a winter activity holiday in the French Alps or Norwegian mountains.
It's beginner-friendly– as long as you stick by safety rules, absolutely anyone can snowshoe. No prior experience or training is required, which makes it one of the most inclusive activities for large groups or families.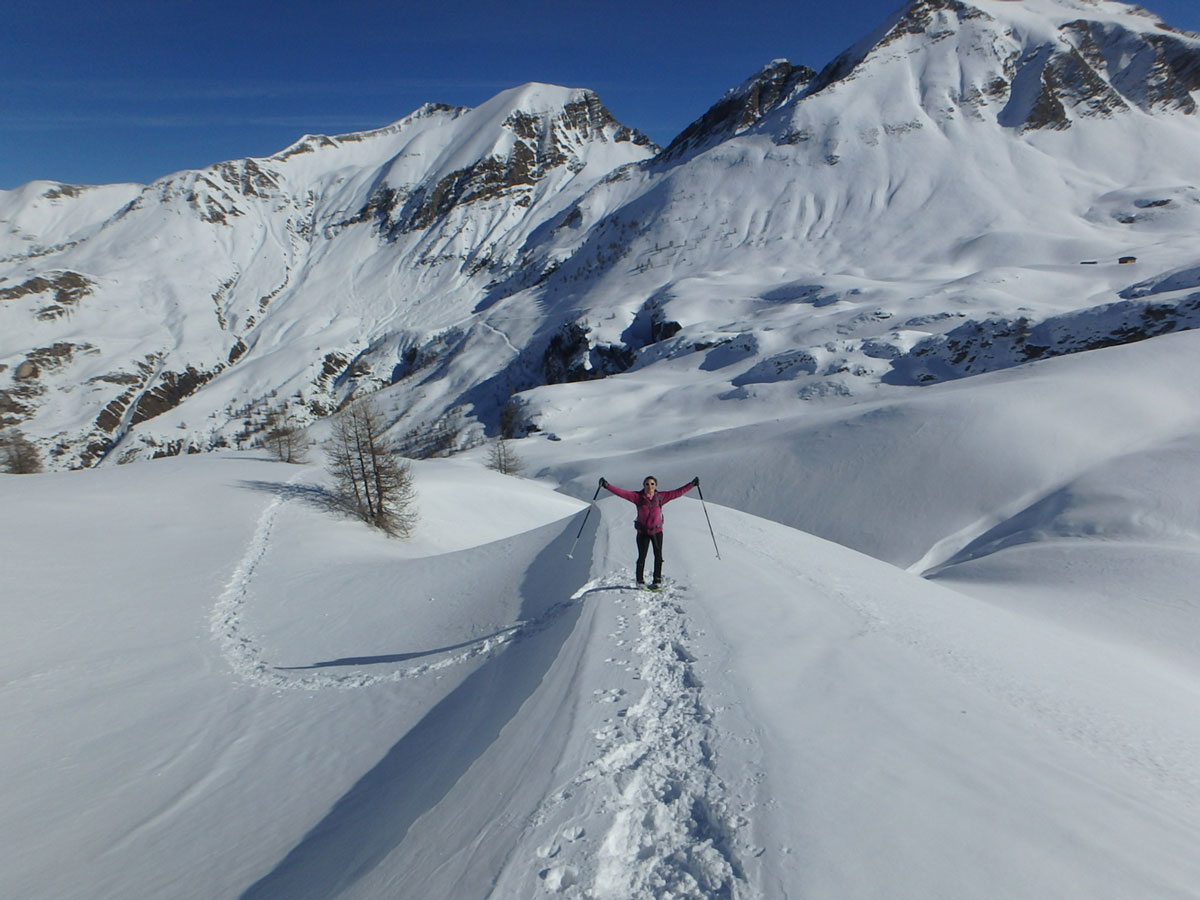 Basic Techniques of Snowshoeing
Walking on flat or rolling terrain is fairly straightforward. In order to avoid overlapping of snowshoe frames, your stride needs to be wider than normal. This may take a bit of getting used to, as it can cause your hips and groin muscles to ache when you first begin. After a few workouts, your body should get used to the wider steps.
Uphill techniques
When it comes to uphill climbs, you will need to use a technique known as the 'kick step', where you kick into the snow with your toe to create a step. You will also use your toe or instep crampons for traction as you ascend.
Or on moderate slopes, use your snowshoe's climbing bar (or televator) to place your foot in a neutral position. This can be found under the heel of most snowshoes.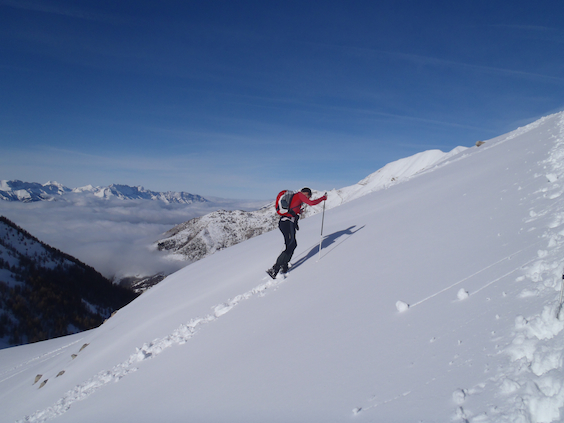 Downhill techniques
When you descend, you will need to rely on your walking poles. Keep these in front of you as you go down and keep your knees bent and relaxed with every movement. Plant your heel first when you step, and avoid over-swinging your legs as this can cause your snowshoe to catch and put you off balance.
Different Types of Snowshoeing
There are three main types of snowshoeing that you can do:
Recreational– this is for hobbyists and beginners, and the trails tend to be quite easy, avoiding difficult terrain. Recreational snowshoe activities are a great alternative to taking a winter stroll, and are great for people who live in areas with an extreme climate. For those who just want to try something new, this is a hobby that's very easy and is relatively affordable to get into.
Sport – some people who are a little more advanced or are highly active may consider snowshoeing to be a serious sport. As an alternative exercise to running, cycling or skiing, it can be used for cardiovascular benefits, for improving muscle tone and for improving weight management.
Expedition –this type of snowshoeing tackles tough terrain and can sometimes be dangerous. In order to take part in an expedition across a remote back country or in the mountains, you will need to invest in the best winter gear and take an avalanche safety kit.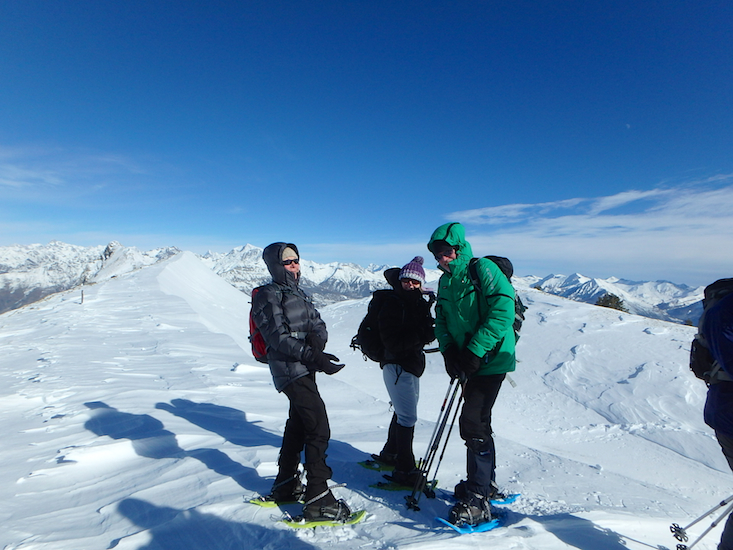 Snowshoeing Safety
Before you head out, there are some important safety tips to bear in mind:
Fuel up and stay hydrated – with the calories you'll be burning, it's important to fuel up before you set off and carry spare energy snacks. It's also vital to stay hydrated.Drinking water can be easily forgotten, particularly with winter sports.
Choose safe snowshoe routes– many resorts have way marked snowshoe routes in low avalanche risk areas. If you are a beginner, it's best to stick to these routes. However, you still need to stay vigilant and check risk levels depending on the weather, the terrain and your own instincts.
Take an avalanche safety kit –if you are heading out to the mountains, an avalanche safety kit is a must. Basics of this kit include a transceiver, shovel and probe. You will also need to familiarise yourself with avalanche safety knowledge, such as where there avalanche-prone slopes are. The steeper the slopes, the more dangerous it can get. But this is just a part of the story, as many other factors come in to play (such as the different zones of the avalanche path and weather conditions).
Never go alone –it's important to head out in a group when showshoeing. The safest way to experience showshoeing is with a qualified guide. Not only can a guide help you with your technique, but they can advise on the safest ways to explore the mountains. They will have knowledge of the terrain and will know the best areas to go to.
Be prepared to turn back – stubborn snowshoers who refuse to turn back when the weather starts turning can get into trouble. It is always wise to turn back and wait until another day. The same applies if you are exhausted. Don't be too proud to cut your adventure short if you are struggling. Your health and safety is more important.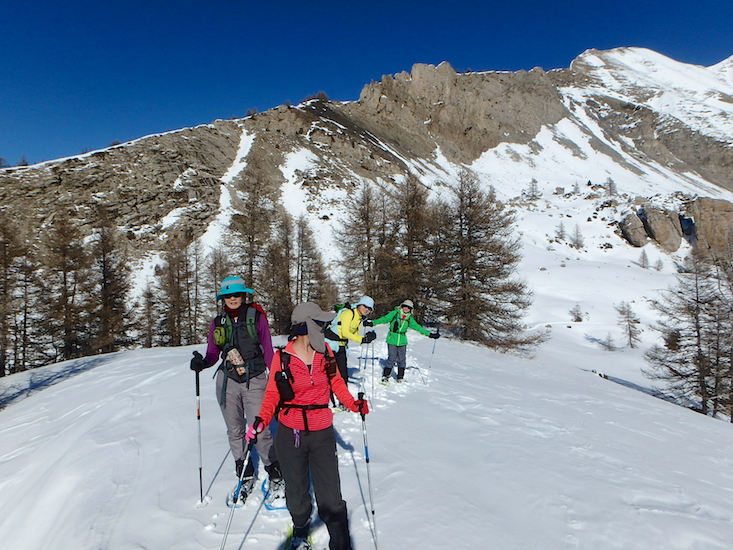 The Best Destinations for Snowshoeing
The options are endless when it comes to finding somewhere to test out your snowshoes. As long as there's snow, there's nothing stopping you from snowshoeing your way around the land for a full body workout. But if you're looking to plan a winter activities holiday with breath-taking scenery, here are some of the best destinations to add to your bucket list.
Southern French Alps
The French Alps is one of the finest places in the world for winter sports, including snowshoeing. The mountain range is dramatically beautiful, and there's plenty of wildlife to spot including chamois, ibex, deer, wild boar and golden eagles.
Our guided Snowshoeing Week takes you to Champsaur Valley in the Southern Alps. Beginners or experienced snowshoers alike can explore the pristine wildness of Ecrins National Park. Our package includes 7 nights half board, 5 picnic lunches, 5 full days of guided snowshoeing with qualified UIAGM mountain guides, and a free day to try out other winter activities in the area. Snowshoes and poles will be provided, so you will only need to pack standard winter hiking gear.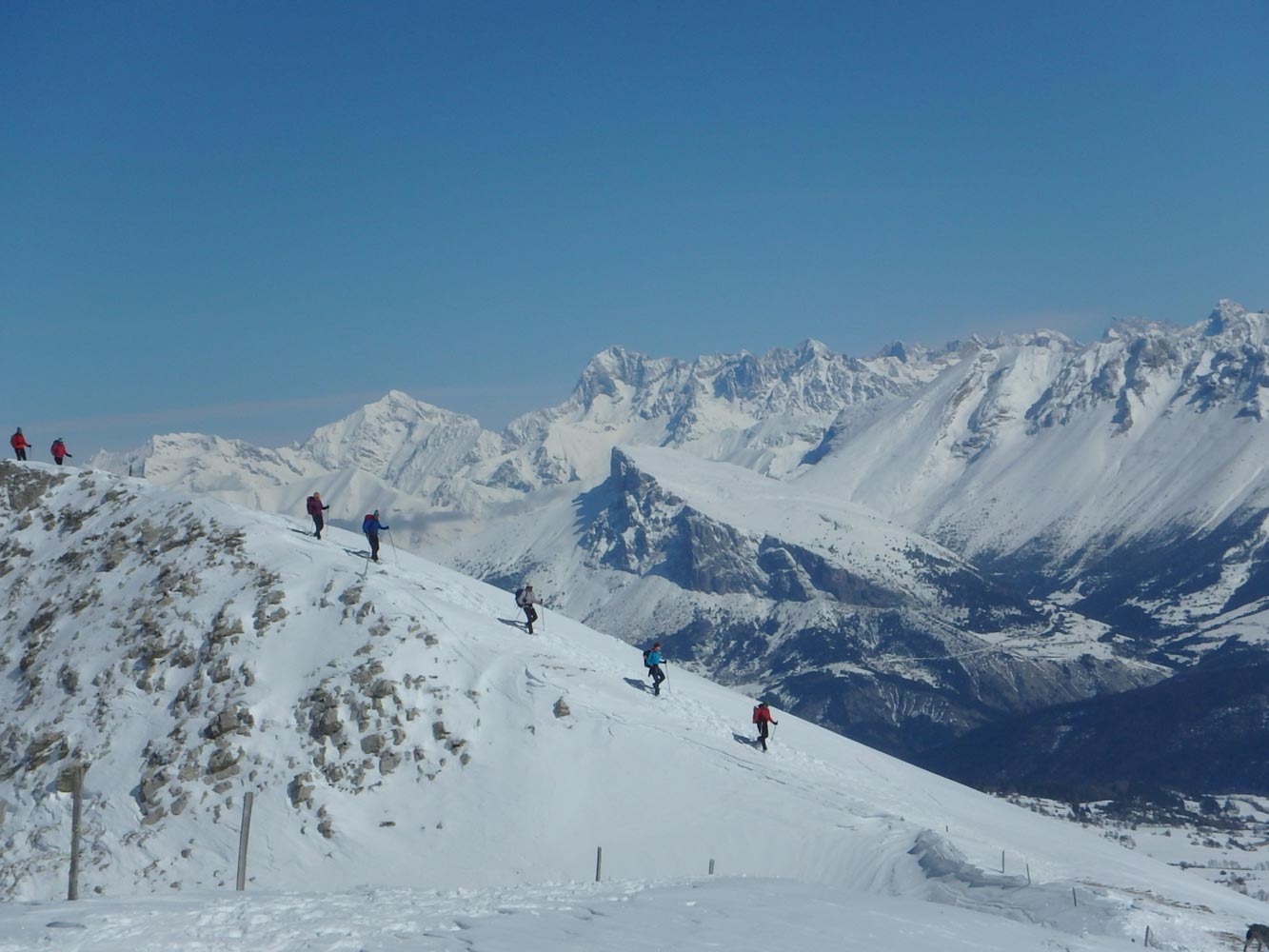 Tromso, Norway
Although there's been an increase in tourism over the year, Norway remains as one of the least visited countries in Europe. And with such a low population density, much of its land remains wild and undiscovered. The Norwegian mountains offers intrepid travellers with incredible hikes and expeditions, but for beginner snowshoeing Tromso is perhaps the most popular place. You won't have to go far from the city to experience miles and miles of soft snow, yet you're never too far from civilisation.
Other alternatives could be a day trip to Kvaløya or something a bit more challenging like Trolltunga.
Lapland, Finland
For a family-friendly winter break, Lapland could be ideal. It's great for beginners as the terrain is hospitable, yet you'll feel like an intrepid adventurer completely off the beaten track. While guided hikes are usually recommended for first-timers, there are many trails in Europe's most festive region that are fully marked out.
Other activities to be enjoyed here include cross country skiing, ice fishing, husky safaris, reindeer sledging, river and sea cruises, or hunting for the Northern Lights.
Dolomites, Italy
In the height of Italy's most stunning mountain range, you'll find a whole host of outdoor activities. Just like our ski resorts in the French Alps, the resorts in the Dolomites offer a range of sports, including snowshoeing. Head to the far north around the Alta Pusteria Valley, where you'll discover different scenery every day. At Fanes-Senne Natural Park, there are a number of fantastic snowshoeing trails that take you through gorgeous spruce tree forests and also along the mesmerising shore of Lake Braies.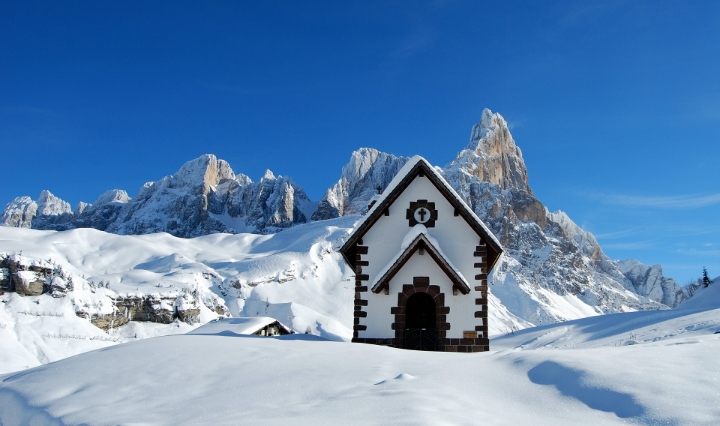 Choosing Your First Snowshoes
When choosing snowshoes, there's a lot to think about. You'll first need to establish what type of hiking boot or shoe you are going to be wearing. This is important as you'll want to ensure that you're comfortable. However, most snowshoes are designed to go over any type of footwear, so you shouldn't struggle to find something that fits what you own already.
Renting your gear or booking a guided holiday with equipment thrown in is often a good way to get started. If you go to a rental shop, the staff can help you find snowshoes that are best suited to your weight and size, and this can be helpful before purchasing.
Other considerations when choosing snowshoes for the first time is the type of terrain you will be taking on. Flat terrain snowshoes are normally a good beginner's choice and are suitable as entry level shoes that can take you across flat or rolling landscapes easily. If you intend on visiting more remote and challenging destinations, be sure to invest in a pair of expedition shoes.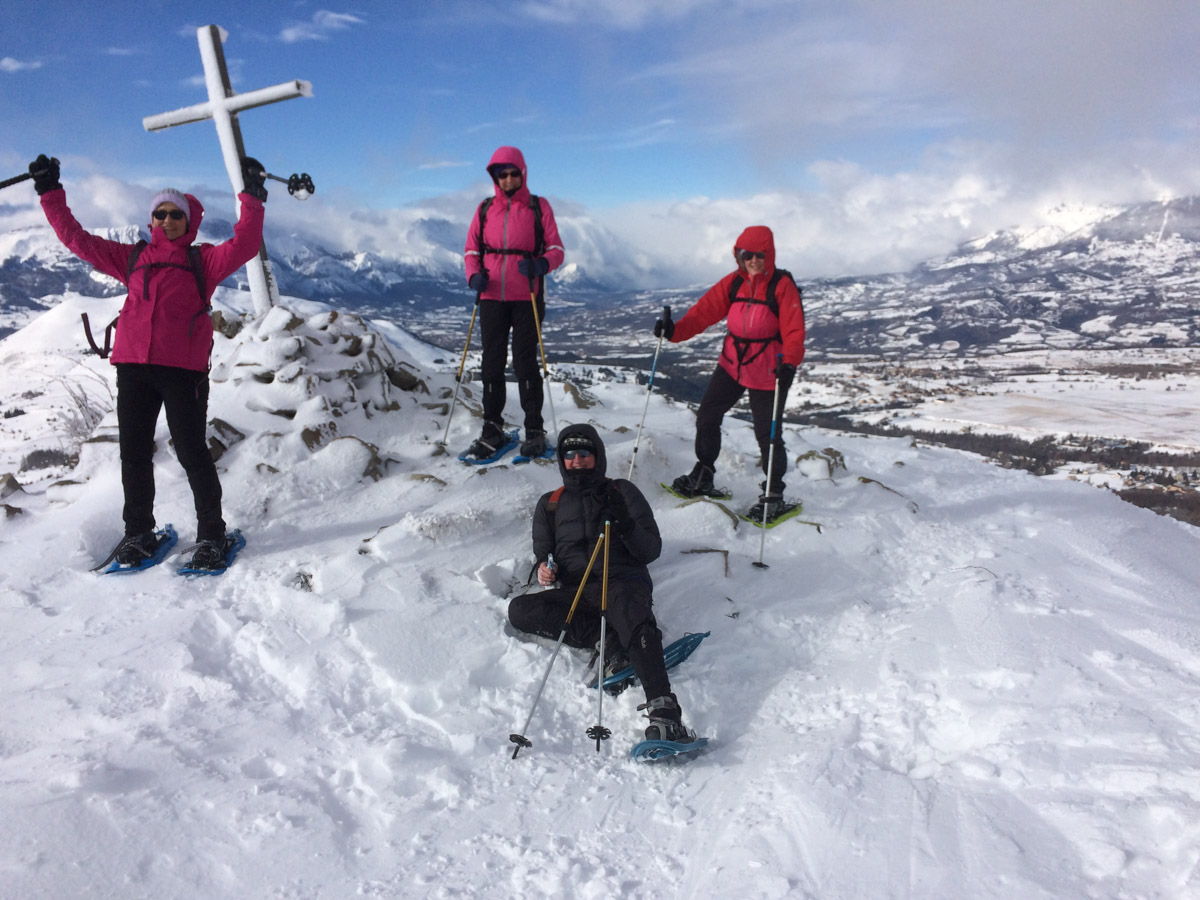 You also need to remember that the size of the frame will affect performance. Smaller frames are fine for compressed snow, but if you are walking on fresh snow that is powdery and soft (and easy to sink into), you should look at shoes with a wider surface area at the bottom.
Other Things You'll Need (Clothing and Equipment)
As one of the cheapest winter sports around, you won't have to fork out for too many extras. Once you invest in your first pair of snowshoes, you're all set. But you do need to have basic winter and outdoor gear. If you're a keen hiker, these things will likely already be in your cupboard.
Base layers and mid layers– base layers and mid layers are essential whenever you're heading out into a cold climate. Be sure to wear plenty of layers and a spacious backpack so you can remove/add as you require when the weather changes throughout the day.
Outer layers and waterproofs– a good water proof (or at least water repellent) coat is needed when out in the snow. If you're heading to high altitudes, you may want to consider windproof gear as well as the winds can take their toll on your body.
Hats, gloves and ski accessories– stay warm with hats, gloves and scarves, but don't forget your winter sunglasses or ski goggles either. The sun cash be extremely strong when high in the mountains.
Walking shoes and gaiters – a good pair of walking shoes, padded socks and gaiters are a must when you're snowshoeing. Comfort is key so make sure you pack footwear that you've already worn in.
Walking poles– poles are extremely important as they help you maintain your balance in potentially treacherous conditions. They are essential in helping you get up and down slopes, and you will rely on them heavily when descending. Some hikers tend to only use one pole when walking on dry ground, but for snowshoeing two poles are a must.
Avalanche safety kit – this is a necessity and no-one should head out without a basic kit with a transceiver, shovel and probe. If you are unsure of what equipment you need, speak to your guide and they will be able to advise you.
For more information read our Snowshoeing Kit List and What to Wear while Snowshoeing. Inspired to head out to the mountains this winter? Find out more about our guided snowshoeing holidays or multi-activity packages, including snowshoeing trips to the French Alps
Blog Categories
Recent Posts